I consider Down to Earth Art Gallery (Elaine & Gerard), as more than my number one Gallery, I consider them to be my friends. With a 20+ year relationship, they have been my strongest supporter in Eastern Canada. They show a deep respect for my work, and provide their clients with high quality collector pieces. I look forward to continuing a long-term relationship with this highly professional Gallery.
As Alan walks through this life he has made everlasting contributions and impressions that will teach and share his culture for generations to come.
For more information about artist Alan Syliboy, clik here.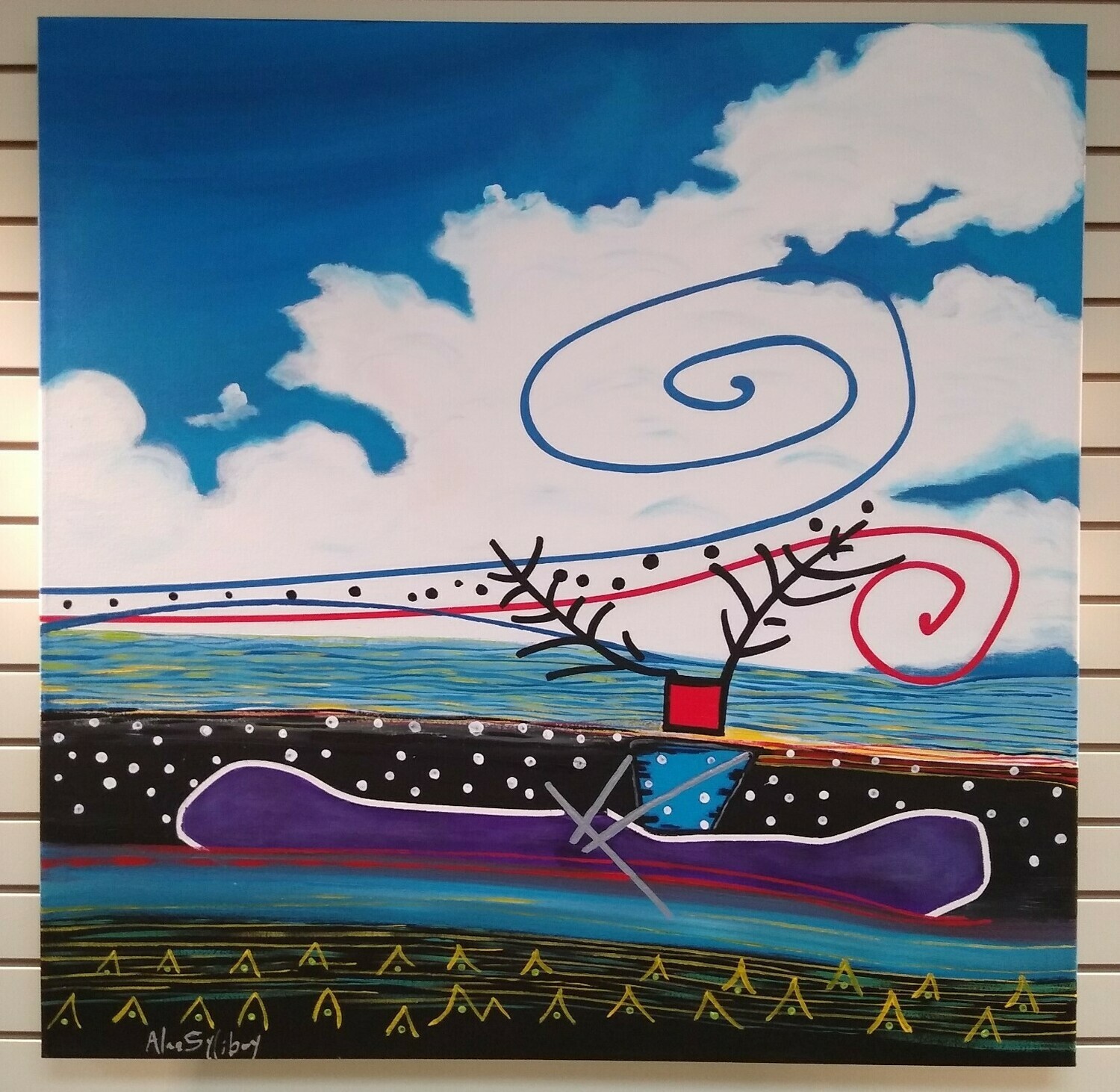 In the beginning I found painting painful and difficult because I was unsure of my own identity. As my exploration of painting and my understanding of Mi'kmaq spiritualism expanded, my confidence and ability grew with it. Since my family is where I am centered, everything else is exterior. I feel that I have gained the inner strength to conceptualize my spiritualism. Simplicity of line and color and uncomplicated symbolism now gives my work a cleanness and strength. From this point of beginning I incorporate new themes and mediums to insure my artistic impression.
Elements of Mi'kmaq petroglyph records found throughout Nova Scotia provide some inspiration for the developing of my general theme, which is my expression of the pride and understanding attached to our cultural heritage. Most of my subjects deal with family, searching, struggle, and strength. All these things are part of my art, and my art gives me strength for my continuing spiritual quest." "Like many others in my generation, I grew up believing that native art was generic – what you see on TV and in other mass media." He argues "Visual expressions are part of what makes a culture unique, and, although Mi'kmaq designs are similar to other North American woodland tribes, you can easily recognize the difference." He looked to the indigenous Mi'kmag petroglyph tradition (rock drawings) for inspiration and developed his own artistic vocabulary out of those forms. His popularization of these symbolic icons has conferred on them a mainstream legitimacy that restores community pride in its Mi'kmaq heritage.
With this purely Mi'kmaq vocabulary he has allowed his brush and pen to lead him to images of family for his series of serigraph prints. 'Grandfather and Grandmother' has put new faces on the flow of constellations and galaxies across the night sky. The past, present, and future of strong family ties are celebrated in a series of spiritedly images that suggest the fantasies of Klee and Miro to those familiar with European art history, but their artistic roots are firmly twined around the rocks found in the ancient grounds of Nova Scotia. And, Mr. Syliboy also wanted his own people to enjoy his art "Most Mi'kmaq do not go to museums on Sunday afternoons," he quips. He began selling his beautifully designed T-shirts door to door on his own reserve, and then to other reserves in Nova Scotia and the Maritime Provinces of Canada. And his intuition was well founded. "Most of my native customers did not know the traditional designs of their own people", he admits.