William DeGarthe, Autumn Afternoon
00181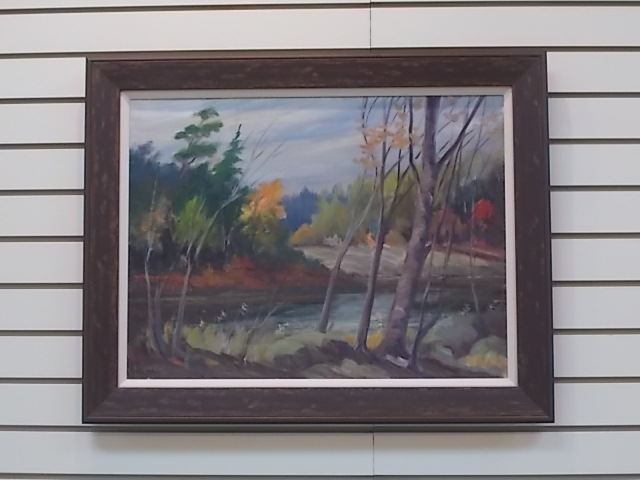 Original oil on board DeGarthe painting, measuring 24 x 18 inches image size without the frame. The two piece custom framing is included in the price. Free packing and shipping are included in North America for this piece.
William DeGarthe
Soon after his arrival in Nova Scotia, DeGarthe was introduced to Frank Wallace, a prominent Halifax marketing executive who immediately offered him a job as a commercial illustrator. DeGarthe would continue to work for Wallace Advertising for the next 15 years before launching his own advertising company, DeGarthe Advertising Art, in 1945; however, it was the onset of World War II that rekindled his passion for fine art.
Biographer Douglas Pope recounts that when the Soviet Red Army invaded Finland in November 1939 DeGarthe was determined to return to his homeland to fight. With his four other sons already enlisted, Edward Degerstedt begged his middle child to stay in Canada. Inspired by the work of Alex Colville and other prominent Canadian war artists, DeGarthe resolved to use his art to inspire others. Around 1940 he began painting under the tutelage of Leonard Brooks.[5]
Over the next few years DeGarthe would study oil painting under Stanley Royle at Mount Allison University in Sackville, New Brunswick. DeGarthe later studied marine painting in Rockport, Massachusetts under Stanley Woodward, followed by Emile Gruppe in East Gloucester, Massachusetts and George Groz at the Art Students League in New York. He also spent many winters studying in Europe at the Academie de la Grand Chaumiere in Paris as well as Académie Julian in Paris and the Accademie di Belle Arti in Rome.
Throughout his career DeGarthe worked in many mediums; however he is best known for his atmospheric oil paintings depicting scenes of life on and around the rugged Nova Scotia coast. He also completed works in charcoal, pen and ink, lithograph and fresco and, in later life, sculpture. Beginning in 1942 DeGarthe taught commercial art at the Nova Scotia College of Art, now Nova Scotia College of Art and Design University (NSCAD).
DeGarthe became a prominent member of the Nova Scotia arts community and a strong promoter of the province's artistic tradition. In the early forties he joined a lively "round table" of Halifax's most influential artists including gallery owners Marguerite and LeRoy Zwicker, prominent editorial cartoonist Robert Chambers, photographer Robert Norwood and war artist Brooks.]
In 1955, the Nova Scotia Museum of Fine Arts, now theArt Gallery of Nova Scotia, acquired its first DeGarthe painting,Out of the Hurricane. In 1963, DeGarthe created two large murals for St. John's Anglican Church in Peggy's Cove. The canvasses, 136 x 210 cm, depict a fishing boat on stormy seas with four fishers appearing to reach out to a figure of Christ on the water, surrounded by 12 gulls.
In 1970, DeGarthe created what he considered to be his finest painting, Out of the Mist, a work Pope called a "simplified, condensed and more charged version of earlier themes", depicting a schooner in full sail emerging from the fog, seeming "to owe its existence to two worlds, the seen and the unseen, the world of fact and the world of fancy."DeGarthe refused to sell the painting and it remains on display in his Peggy's Cove gallery.
In 1958, DeGarthe exhibited 138 works at the Halifax Memorial Library in a show sponsored by the Nova Scotia Museum of Fine Arts, now the Art Gallery of Nova Scotia. In 1959 over 100 of his paintings were exhibited at the Queen Elizabeth Hotel in Montreal. His painting "Approaching Storm" was voted most popular at the 1959 Maritime Art Exhibition at the Beaverbrook Art Gallery in Fredericton, New Brunswick, Canada. His work was also shown in Toronto, London, Florida and Barbados.