"European Cottage" by J.W. Beatty
00269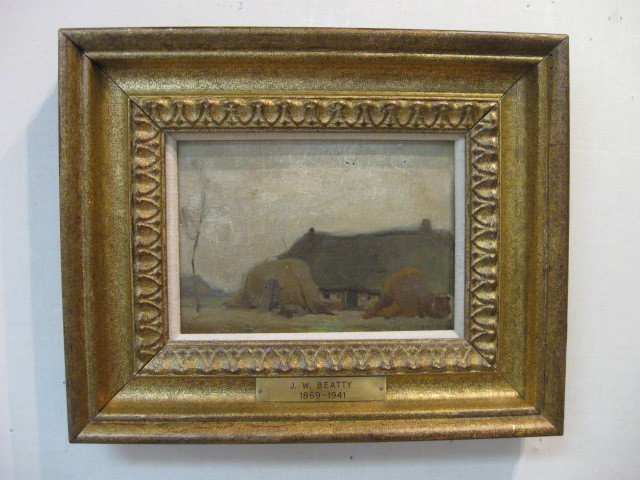 This is one of my favourite pieces, original oil on board measuring 7 x 5 inches, 11 x 9 inches outside the frame, there is a date on it, looks like 1907?
John William Beatty 1869-1941
He was a painter, printmaker and educator.He created mainly Canadian landscapes but depicted W.W. 1 scenes in (1918) in England and France as a
war artist.
In 1885 when he was 16 he served with the Ontario Militia in Saskatchewan in the Louis Riel Revolution.
Considered one of the principal innovators & promotors of the iconic Group of Seven style, he taught such notables as A.Y. Jackson and Alan Caswell Collier.
He was, along with A.Y. Jackson, commissioned by Canadian National Railway to paint the laying of track through the Rockies.J.E.H. Mac Donald, Arthur Lismer, Lauren Harris & Tom Thompson were frequently his painting companions.
His works are considered highly collectable and his importance as an artist is discussed in all notable publications about Canadian Art History.