Deep In Thought By William Winter
00241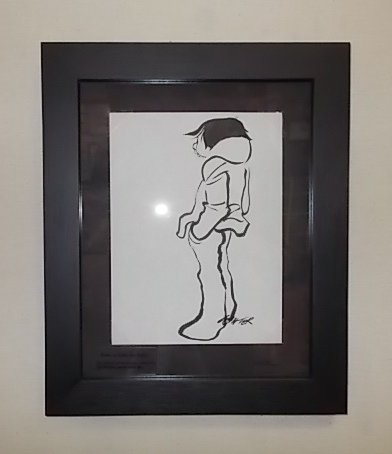 This is an original pen and ink on paper, measuring 8 x 11 inches; 14 x 17 inches outside of the frame.
William Arthur Winter
1909-1996
William Winter was born in Winnipeg 1906 studying art under Frank H Johnson and Lionel LeMaine Fitzgerald, both members of the Group of Seven, at the Winnipeg School of Art from 1923-1929.From 1930-1935 he continued studying art and did commercial art at Brigden's in Winnipeg.He moved to Toronto in 1937 and established an advertising firm with Lesley Wookey and Jack Bush where Winter painted cover illustrations for "New World Illustrated" after establishing the advertising firm of Wookie, Winter,Bush in Toronto.
By 1948 Winter's work was being praised in shows as having rich , jewel like colours and being a" timeless psychological study " of youth.
By 1955 he was an independent artist and was gaining attention especially after an acquisition in 1955 by the National Art Gallery titled "The Multitude"
By 1960 he was involved in many commissions for industry as well as aid societies.He said of his subject matter in 1967 "I paint with a great deal of nostalgia. I paint my own boyhood" Winters paintings were appreciated for their sensitive depiction of the attitudes and habits of children and youth in lively colourful works.
By 1960 Winter was teaching drawing and painting at the Ontario Collage of Art and The Artist's Workshop, both in Toronto. He was also traveling to paint in Italy 1963, and Spain 1965, as well as Greece and Mexico in 1966.
He had a dozen solo exhibits from 1948 – 1988 from Alberta to Quebec. All this while, he was participating in group shows in 1945, Canadian Group of Painters and from 1945-63, The Royal Canadian Academy of Arts 1983, and Canadian Pictures 1951in Vancouver Art Gallery.